i got the movie rankings from tv okay!
so if you dont like it GET A LIFE!
8.
Quantum of Solace
personally,i didnt go see it cuz i dont like james bond soooo this movie can suck it!
7.
Madagascar 2: Escape to Africa
i saw it with my mom and her friend and it was packed! it was good but not as good as the first, but sasha baren cohen or "the dude that plays borat" was awsum in this film just like in every other movie hes been in like sweeney todd
6.
Kung Fu Panda
SUUUUCCKKKKKKKKKKKKED
it was very annoying and my mom was quoting it for for months!suck it jack black!
5.
Wall-e
AWWWWWWWWWWWWWWWWWWWWWWWWWWWWWWWWWWWWWWWWWWWWWWWWWWWWWWWWWWWWW
I LOVE THAT LITTLE ROBOT!!!!!it was a pixar film so of course it was going to be good
it will be as famous as finding nemo and always be a great disney film
4.
Hancock
:P im getting tired of will smith and besides this movie is a disgrace to superhero movies
3.
Indian Jones and the Kingdom of the Crystal Skull
ughhhhhh this movie sucked majorly!
everyone expected it to be awsum b-cuz it was a new indiana jones movie, but really
ALIENS?!?!?!?!?!?!?!?!?!?!?
COME ON!i love aliens i belive in them too, but they dont belong with indiana jones
And really shia lebof as indie's son,sheesh!al that guy can do say no multiple times and get harassed by a computer :P!!!
YOU SHOULD HAVE LET INDIE RIDE OFF INTO THE SUNSET LUCAS!!!!!!!!!!!!!!!!
2.
Iron Man
this was a good superhero movie!screw hancock!
this movie got me interested in the cartoon that always plays on jetix :)
it was a good movie and deserves the spot it got and i cant wait to see robert downey jr as sherlock holmes
1.
THE DARK KNIGHT
I'VE SAID IT BEFORE AND I'LL SAY IT AGAIN
THIS MOVIE IS THE BEST MOVIE EVER!!!!!!!!!!!
I LOVE THIS MOVIE!!!!!
it was great: action packed and had great actors
although i can say WHY THE HELL DID BATMAN'S VOICE HAVE TO BE SO GAWD DANG ANNOYING?!
i mean really, the original batmans from the 80's and whenever didnt change the voice so that didnt get on my nerves
but the best thing from this movie was the late Heath Ledger as the Joker. the guy had the part down!he played the joker well and he desrves awards even if he cant really have them. im sorry
that movie made me be batgirl for halloween and it is the second biggest movie of all time,the titanic is the first.
they are even going to re-relase it in this coming january so we can watch it again and make it the biggest movie in history
this is a great movie and im glad i have it on my ipod
but my top eight movies would go like this:
8.
Penelope: the film that introduced me to james mcavoy
7.
Stepbrothers: Boats n hoes!
6.
Wanted: wooo james mcavoy
5.
Tropic Thunder: Robert downey jr as an australian guy playing a black guy is hilarious!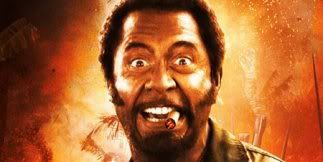 4.
Twilight: this movie got me reading for fun again and rekindeled my love for vampires
3.
Quarentine: a great horror movie that made me have nightmares which isnt easy to do
2.
Cloverfield: ahh sweet sweet chaos thru a lens that will make you puke and scream
and marlena blows up XD
1.
The Dark Knight: i wont repeat myself